Am I a smartass?
Well maybe, but don't be too hasty to judge me...
My company credo is "If I can't solve it, it's not my problem"...
On the surface that sounds like something that Eddie Haskell might say, but it is honestly meant to be sincere.
As a manufacturer's representative by day, and a self-taught engineer by night, I won't take on anything without a great deal of confidence that I can handle it. If I can't offer you an ignition system that is so simple that a Caveman could do it (sorry Geico), forget about it
Overnight Solutions was founded in late 2002 when I learned that the Wisconsin YJ69 ignition module was NLA. My OEM module had failed in the early 90s, and I had built my own replacement to avoid spending money that I didn't have at the time.
The original one-off prototype assembly worked for 15 years or so wrapped in duct tape, until I professionally tooled the module you see to the right.
Years later the associated stator went obsolete, so the Wisconsin HET was designed as a total ignition replacement to keep old tractors in service.
The Tecumseh HET is now offered to replace failed 610759/610760...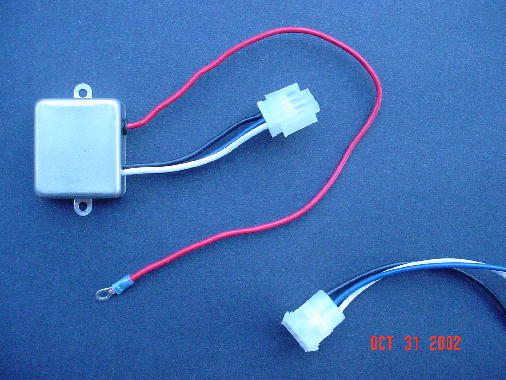 This is the original OS69. The metal case has now been replaced by plastic, but performance is maintained.